Open all year – also during fall and spring holidays!
Lovers of nature and families with children will enjoy the beauty of nature and all the opportunities that Fargassa has to offer.
The Mas is situated at a height of 600 meters, we have 60 hectares of mountain forest. There is a river, about a kilometre long that runs over our territory and ends in a spectacular waterfall. In between there are cascades, deep pools to swim or to jump in from a high rock. For the youngest there are safe spots with sandy beaches.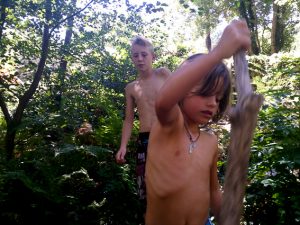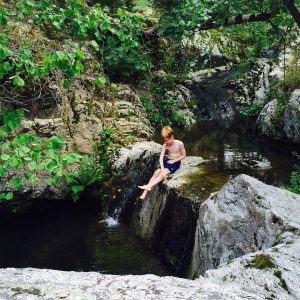 In the evenings we offer delicious (organic) vegetarian meals for those who want to sign up for it. It is also possible to tell us when you book that you want to enjoy our meals during your stay, the table is set for you every evening at 8 p.m. In the evening we make a campfire. It is the time to exchange stories or make music, to drink a cup of tea, or a glass of wine.

At Mas de la Fargassa we do not offer WIFI, nor is there any mobile coverage, so that everyone can be on holiday for a while, away from the crowds and obligations. (Our computer and our landline telephone can be used when necessary and there is a mobile range within a 10-minute walk).

During high season (July-August) we offer 4 fully furnished Nordisk / De Waard tents, for 4-5 people Furnished: refrigerator, 2 pit gas stove, kitchenware, real bed, mattresses, cushions, light, electricity, etc. We rent per week from Saturday to Saturday. Bring your own towels and bedding.
We also have three beautiful places available to come with your own tent. (reservation is also required for this)
Unfortunately, it is not possible to stay with a van or camper in high season.
Please bring biodegradable washing products /shampos, thank you.
Every pitch has its own picnic bench and a lot of space and privacy.
Off season you are welcome to come with your own tent or small camper, but make sure to call us first before coming because we might be full.
We have a small scale biological shop, where you will find essential food including fresh eggs, home made biological yoghurt and bread.

In high season we have daily meditation sessions in the morning and once a week we organise a guided walk, horse rides and more.
We are looking forward to your visit this season and the next.